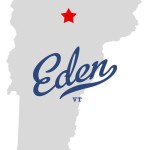 Eden and Eden Mills are located in Lamoille County in north-central Vermont.
A charter was issued by Governor Thomas Chittenden in August 28, 1781, to 72 Green Mountain Boys who fought under Colonel Seth Warner in the Revolutionary War.  It was hoped that the Town of Eden would become a "Garden of Eden" to these veterans, although the Town history reveals that none of the veterans actually settled here.  The original township grant was for thirty-six square miles, and an annexation of a portion of Belvidere in the early 1800s made Eden one of the largest towns in the State.  Fore a more complete history of Eden, Eden Mills, and Eden Corners, read A Walk Through The Garden of Eden, published in 1996 by the Eden Historical Society.
Eden land area is 63.3 square miles and has a population of 1,334 at the 2020 Census count.  It is a rural community with no fast food chains, no shopping malls and no traffic lights.
The terrain around Eden is full of vast tracts of undeveloped land, magnificent mountain peaks, rolling farmlands, numerous ponds and brooks, the Gihon River and Lake Eden.
The Babcock Nature Preserve, the Eden Forest which borders the Long Trail State Forest, and Atlas Timberlands Partnership conserve and protect over 30,000 acres in Eden and northern Vermont.  Lake Eden Recreation Area, Mt. Norris Scout Reservation, and the Green River Reservoir State Park are also home to numerous wildlife species (deer, moose, bear, coyote, mountain lion, and lynx, to name a few), and offer four-season activities (hiking, biking, swimming, canoeing, kayaking, fishing, hunting, skiing, snowmobiling, dog sledding, etc.)
Come for a day, a week, or a season – and see why Eden's residents call this "Garden of Eden" their home.
PS – did we forget to mention that Vermont (and Eden) typically gets snow before Halloween?
Eden is geographically located at:   N44° 42' W 72° 33′